Serving Children, Parents & Teachers:
Mentoring Children
Supporting Parents in advocating for their children
Assisting Teachers in meeting special learning needs of gifted children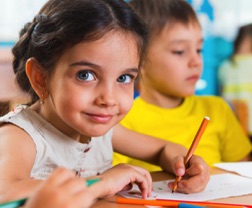 IN-SCHOOL PROGRAM: MGK
Our Mentoring Gifted Kids program is specifically designed to mentor children with high intellectual potential. Sessions are in school, in school time.
"We believe the program is fantastic and truly caters for the children participating. It has been the highlight of J's week for the last three years. We wish to acknowledge you as an educator and are so pleased that you have been a huge factor in J's education." N. and S. C.
OTHER SERVICES
SCHOOLS
- strategies to identify all the gifted children in your class/school, and meet their relevant learning needs
- PD to suit the needs of teachers
PARENTS
- links to parent support groups;
- personalised consultation, face-to-face or by phone